Sequel
2015.05.22 Friday
Horizon
This is the another translation of my post on May 12, regarding the grade.
Please click
here
for the orignal post in Japanese.
************************************************
I want to talk about the grade here, but to be honest, I don't have the right answer.
No doubt the Super Project was the hardest problem I've ever done and that probably means it's a V16. However, I'm not quite sure because I don't have enough references to compare with. I would be able to fully understand what V15 is like exactly if I did more than fifty or so of them, but my accomplishments don't even come close to that.
So I can say for sure the grade of this problem is at least V15, but I'm not sure where it exactly fits within the range of V15. Is it in the upper 15 region or beyond 15 and in the realm of 16 – I can't tell.
I think we just need to see more climbers experience V15s to talk about the grade of 16. Just as 4-dan(V12/13) or 5-dan(V14/15) (were) used to be in Japan.
So it might take more time to settle on its grade.
I want to ask strong climbers not only from Japan but also from abroad to try this problem and to hear their opinions.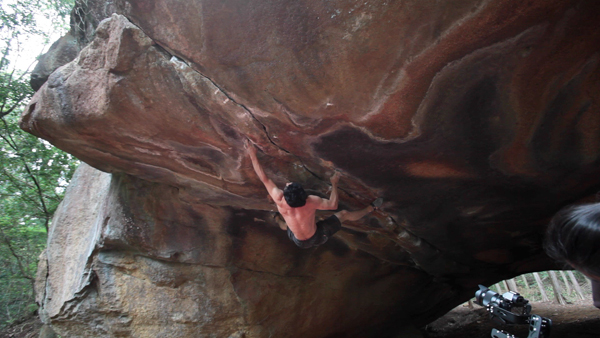 Truthfully, I don't care much about the grade.
'I found a hard and cool line!'
'I'll try it'
'Um…. Can't do it'
'Yeah, I did it!'
That's it. I'm fine with this simple scenario.
Grading in climbing has a negative aspect. Dry numbers sometimes spoil great climbing and great problems. And I know people tend to focus on the numbers rather than on climbing itself.
I simply want to focus on climbing, not bothered with the grading. If I were not a professional climber, I would be climbing like that for sure.
Not to be misunderstood, I'm not trying to be cool saying 'grade is not my thing.' I just don't understand what grading really is and I don't want to be bothered thinking about it.
Before the trip to Kyushu this time, I climbed existing problems to confirm my sense of grading but ended up getting confused more.
So I think grades should be treated as just numbers, mechanical numbering. It can go up and down.
I rather want to keep getting on FAs of wonderful lines, pushing my limits. And I want to cherish this motivation.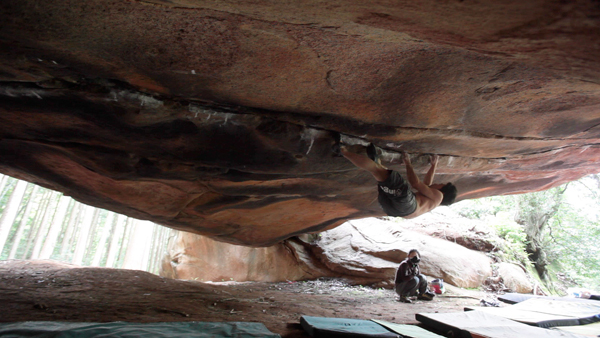 I decided on the name of the problem - 'Horizon' and on the grade at V15+ tentatively.
| - |
14:37
|
comments(0)
|
Comment
コメントする
Trackback
この記事のトラックバックURL
トラックバック